What Is Group Key Renewal? An Overview
If your wireless system has WPA (Wi-Fi Protected Access) security, you may have seen an option to set group key renewal. It's not unusual that a question may come to your mind that what the group key renewal actually is.
The interval during which your encryption key will be regenerated is the Group Key Renewal (also known as the Group Key Interval). 
An encryption group is a collection of rules defining how certain data is encrypted, denoted by the term Group key.
If you're curious enough to know further, then go through this article till the end.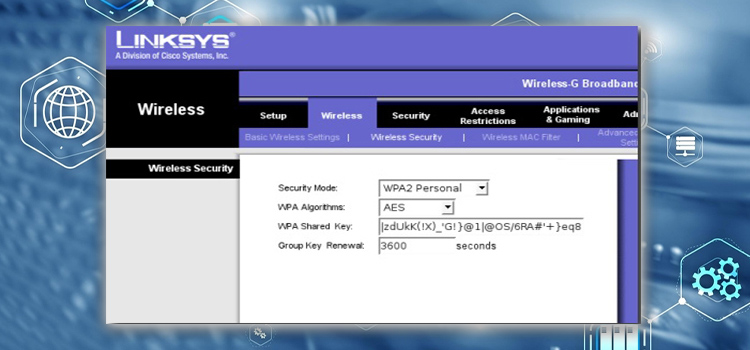 What Is Group Key Renewal in WPA?
We'll start with the introduction of WPA in order to explain everything in detail. 
Functionalities of WPA
Wireless internet connections that aren't secure are susceptible to breaking in. Keys are used by the Wi-Fi Protected Access, or WPA protocol to guarantee the security of communications across your home or workplace wireless network. 
Previously shared keys are used by WPA to connect a device to a secured network. WPA authenticates the key before allowing or denying the device access to the Wi-Fi connection. 
Group Key Renewal or Interval
Your PC traffic is encrypted by the encryption key which could be a single word or a long string of alphabetic characters.
In simple words, Group Key Renewal is like writing down a word and then mucking it up with the letters of another word to obscure the original. You would have a key in the letters you used.
After a predetermined amount of time, WPA automatically switches secret keys. The rekeying period is the amount of time between automated changes to the group key, which every device on the network shares, before a new key is used. 
You won't even be aware that the group key is changing thanks to WPA's lightning-fast speed.
Importance of Group Key Renewal
The Group Key Renewal ensures high-end security. Your network is protected from invasion by routinely rekeying the group key because an unwanted intruder would find it more difficult to adapt to a secret key that is always changing. 
Even a skilled hacker would need more time to obtain your encryption key and begin decrypting your data as it takes longer than the rekeying interval to guess or decrypt your key. Older security protocols like WEP lack this automatic rekey feature, making them less safe.
It's worth shortening the rekeying interval if you are a corporation or want to specifically conceal your data by using key renewal timeout (3600 seconds is the default). After the expiration period, a new key will be generated that will be derived from the previous key and won't need user input.
Frequently Asked Questions (FAQs)
What is the WiFi group key?
Broadcast or multicast data must be accessed by numerous individuals who collectively comprise a trusted group in order to ensure effective security. As a result, a key—the WiFi group key—must be shared by each individual in that trusted group.
Is WPA3 better?
Yes, it is. WPA3 is the safest option because it's the most recent wireless encryption standard. However, some wireless access points don't support WPA3. The remaining best choice in that situation is WPA2, which is currently being used extensively in the enterprise sector.
What does group key management mean?
A group manager can keep track of a shared group key for a dynamic set of members through broadcast channels using group key management encryption techniques. For one-to-many or many-to-many group communication, the group key can be utilized to offer security procedures.
Conclusion
Hence, we can assume that you've got proper knowledge about the group key renewal topic as we've shared all the relevant information. Hopefully, this article has provided you with the exact information you're looking for.
Subscribe

to our newsletter

& plug into

the world of technology