Hulu is one of the best streaming services where people love to watch their favorite shows and movies.
However, many members of Hulu have recently encountered a problem that an error message appeared on their screen saying "You can rewind after the break" and they cannot fast forward or rewind while watching their favorite show or movie.
If you are having this same irritating issue with Hulu, then don't worry. We have found some fixes for this problem that will surely work for you. So, without wasting time let's see the solutions.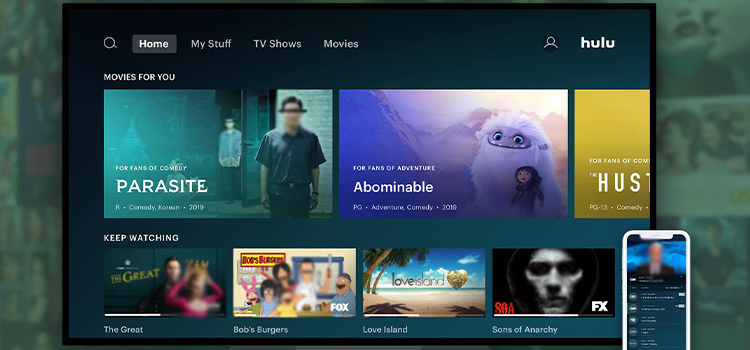 Reasons for 'Why Can't I Fast Forward on Hulu' Issue
Before going any further, you must know the reasons why you can't fast forward or rewind the content you are watching on Hulu. Because if you know the exact cause of the issue then you'll know what can you fix and what isn't in your hand to fix.
Here are the possible reasons:
The content you are watching is non-skippable ad breaks. Even if you are a premium user and have no ads plan, you cannot skip or fast forward during the ad.
If the content is aired on the same day you are watching, then you might not be able to fast forward.
You cannot fast-forward live content.
Due to a glitch on Hulu.
How to Fix Fast Forward Is Not Working on Hulu?
Hopefully, you've already understood that you can't fix the fast-forward issue on Hulu for the first three reasons that are given above because it is not in your hand. But if you are facing the issue for almost all the contents on Hulu, then it is probably because of a glitch. In that case, you can easily fix it by following solutions.
Fix-1: Restart and Power Cycle Your Device
You maybe cannot fast-forward because of a glitch in Hulu and this glitch can be fixed by restarting your device.
Turn off and on your smartphone or TV on which you are watching Hulu.
If this doesn't fix the issue, then,
Turn off your TV and unplug the power cable.
Wait for 5 to 10 minutes and plug the power cable.
Now turn it on and check if the issue is resolved or not.
Fix-2: Check Your Internet Connection
It often happens that the content you are watching is fully streamed and your internet connection goes off. In that case, you may be able to watch the episode or movie but when you try to fast forward or rewind, it will stop and won't play or skip.
You need to check your internet connection first if this happens to you.
Restart your router and reconnect your device to the internet.
Also, ensure that your internet has efficient speed from any website such as fast.com.
Now check if the issue is resolved or not.
Fix-3: Clear Cache Data of Hulu
The unnecessary files of Hulu are stored in the Cache of the app. These unnecessary data can conflict with the main stored data of the app and cause a glitch that won't let you fast-forward the content you are watching. Clearing cache can solve this issue.
Here are the cache clearing processes for different devices:
1. On Smartphone
First, go to settings and select the option named application.
Then, locate and tap the Hulu app and select the storage option.
Now, tap "Clear cache" from here.
2. On Firestick
First, go to the settings of firestick and select applications.
Then, go to "Manage Installed Applications" and select Hulu from the list.
Now, force stop the app first and clear cache and data from there.
3. On Roku
First, go to the home screen of your Roku and press the home button 5 times.
Then, press the up button and the rewind button twice.
Finally, press fast forward twice and your device will restart.
Now, check if you can fast forward contents on Hulu or not.
Fix-4: Update the Hulu App
Updating the Hulu app may resolve issues with content you're watching on Hulu not being fast-forwarded. Here are the update processes for different devices:
1. Roku
First, tap the "Home" button and go to Settings.
Then, select the system and tap "System Update".
2. Firestick
First, go to settings and select "My Fire TV".
Then, go to "About" and tap "Install Update" or "Check for Updates".
3. Samsung TV
First, tap on the settings icon on your Samsung TV and then select the support option.
Then, select the "Software Update" and chose "Update Now".
Note: If your Hulu app is up to date, then check for the System Update on your device.
Fix-5: Reinstall the Hulu App
If none of the above solutions work for you, then this fix will surely work for you as this fix has helped a lot of Hulu users to solve the fast forward not working issue.
At first, uninstall or remove the Hulu app from your device.
Then, restart your device.
Finally, reinstall the latest version of the Hulu app and check if the fast forwarding is working or not.
Fix-6: Contact Hulu Official Team
If none of the above methods work for you, then the final option that remains on your hand is to contact the Hulu team and tell them the error that you are facing during fast forward contents. They will help you to solve the issue.
Frequently Asked Questions
Why Hulu Isn't Letting Me Fast Forward?
If you are having issues with fast-forwarding contents on the Hulu app, then try restarting the stream and clearing the cache of the app from your device. If that doesn't fix the issue, then reinstall the Hulu app and restart the device on which you are watching Hulu.
How Do I Fast Forward on Hulu?
Hold and drag the progress bar indicator dot to right to fast forward and left for rewind. If you don't have any preferred stopping point or want to move ahead to a smaller distance, then click or tap the 10-second forward icon which is situated below the playback bar.
How Can I Skip Commercials on Hulu?
You need to have paid subscription to Hulu to avoid unwanted ads. To stop, go down to "Your Subscription" and click "Manage" under the "Add-ons". There, find the "Switch Plans" option and select "No Commercials".
Conclusion
That's all on how to fix the can't forward or rewind issue on Hulu. By applying the aforementioned fixes, there is a 99% chance of solving the issue. The rest 1% chance of solving this issue is by contacting Hulu Customer support which is also mentioned in the article. If you discover any other fixes, don't hesitate to share that in our comment section below. Hope you found this guide helpful. Thanks for reading.