Airdrop helps ios users to share files. It quickly communicates your files like photos, videos, content, etc. Airdrop is working well in iPhones or iOs. But sometimes, this feature does not work and crashes. Why does Airdrop say waiting, and how can you fix it quickly? In this article, I will tell you everything.
Using Airdrop is an excellent way to transfer data and other files. When it says waiting when you need it most, it creates massive problems. So, you have to know why the airdrop stop is working and follow our instructions to fix the Airdrop as soon as possible.
About Airdrop
Without wireless, you can share photos, Map locations, music, Voice Memos, Passbook passes, data on your iPhone, contacts, or anything else by using airdrop features. The work of Airdrop is to transfer the information via Bluetooth and Wifi.
AirDrop is a proprietary ad hoc service and works in Apple Inc.'s iOS and macOS operating systems, also introduced in Mac OS X Lion and iOS 7. Airdrop can transfer files among supported Macintosh computers and iOS devices using close-range wireless communication. 
Airdrop use LE Bluetooth features to negotiate connection and broadcasting. If you have an airdrop, you can quickly transfer information, data, music, 100 photos, videos, etc., between iPhone to iPad or Mac device.
But sometimes, when you try to send something to other apple devices, Airdrop says waiting. Sometimes it stops working. You can not use Airdrop for pc versions to transfer files from iPhone.
Using iTunes, you can use Airdrop for pc. So you have to download Airdrop for windows ten latest version for your pc. Because it is built for only the Apple community like iPhone, iPad, and Mac os versions.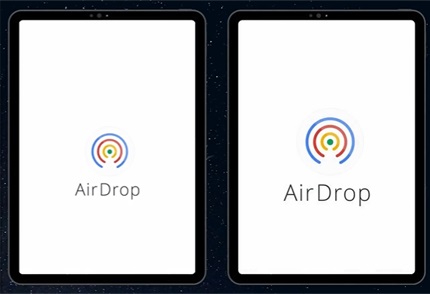 Why Does Airdrop Say Waiting?
People use Airdrop to share and receive their photos, necessary documents, and more with other nearby Apple devices. But sometimes, Airdrop doesn't work correctly. When you try to transfer data between Apple devices, it can't connect. When Airdrop faces a problem connecting other devices, it says waiting. Sometimes there is the following reason why Airdrop says waiting-
Choosing the Wrong Devices
Choosing the wrong devices to share your file can be a problem for Airdrop. When you want to share some photos or documents from iPhone to windows pc, you are using Airdrop. Airdrop is not working here. The same thing will happen if you try it with the laptop. Because windows computers do not support the Airdrop function.
Software Problem
Airdrop is not working because of a software glitch error. A glitch software can prevent Airdrop from working and stuck on waiting.
Update Your Device
When your iOs or iPhone device is updated in the latest version, they may bring some bugs that conflict with AirDrop. Some users reported that when they update their device, Airdrop stops working.
Setting Options
If your setting is inactive, and Bluetooth or wifi connection is turned off, and a personal hotspot is turned on, then Airdrop says waiting. Airdrop prevents the sharing of files.
Locked iPhone or iPad
If the device becomes locked or powered off, Airdrop will say waiting. Because your device won't appear someone else for sending files via Airdrop.
The Device Is Far From Each Other
Airdrop stop working when you share files, data, music, video, etc., via Wifi and Bluetooth. Because your device is far from each other, it is difficult to connect the other connections. 
How to Fix When Airdrop Stops Working
The following instructions will help you to fix the Airdrop stuck on waiting for apple devices problem-
Restart your Apple device, iPad, iPhone, or Mac to fix the temporary issue. When you see an airdrop falling, just restart quickly. 
Check the setting system to activate Airdrop again. Modify settings, go to general and Airdrop, and set up "receive off."
Turn on the Airdrop restrictions:
Turn on sharing devices' Bluetooth connection.
Ensure that the nearby sharing device is in the wifi and Bluetooth range, consisting of 33 feet. Otherwise, Airdrop does not work.
Restart your wifi or Bluetooth setting to reconnect Airdrop.
Update your device version and update the setting option to reconnect the Airdrop.
Disable your Hotspot to reconnect to Airdrop. To fix this Airdrop, go to the settings app and click on personal hotspot. Then disable the hotspot and allows others to join.
Make your Airdrop for everyone. Go to the setting option and click on the available option. Then you will find everyone and change your discoverability to everyone.
How to fix Airdrop for iPad, iOs, and Mac?
Airdrop is not only for Apple devices, but also you can use it on pc or windows. If Airdrop not working on your iPad, iOs, or Mac version, follow and change some setting options. 
For iPhone or iPad
To fix Airdrop in an iPad or iPhone, you must modify the setting option. Go to the setting>general> receiver off. You cannot change it when the receiver is off for the recipient. On your iOs device, please check the screen time settings. Select screen time and go for Content & Privacy Restrictions. After setting up, it then selects the allowed apps and makes sure that your airdrop app is permitted.
For Mac Device
If you are using Airdrop on a Mac device, open the finder option. Select 'Go" from the top menu of your Mac, and select Airdrop from the dropdown. Check the allow me and select everyone to send files.
Final Thoughts
Above we discuss, when someone shares a file on your iPhone device using Airdrop, it says waiting or shows an error. Why does Airdrop say waiting?. we solve these questions by answering the above. Now it is easy to find the problem and fix your Airdrop as soon as possible. 
Because Airdrop works amazingly on your iOs device as quick transfer files, you do not need to wait long to receive data, images, video or music, etc. And remember, one thin Airdrop can share files from iPhone to iPad or Mac device, not your windows or pc.