To overclock i5 8600K, enter BIOS mode and adjust the CPU, VRAM, and voltage configurations. Select the correct XMP (Extreme Memory Profile) profiles and make sure to monitor CPU temperature.
How to Overclock I5 8600K?
Overclocking is done by increasing the components' clock rate to run it at a higher speed than the ideal rate, to achieve more CPU speed. Both CPU and GPUs are overclocked most of the time, but you can also overclock other components. However, overclocking needs additional cooling and possess potential risks. 
There are some obvious risks involved with overclocking, such as voiding the warranty whenever you run an Intel processor outside of the manufacturer's specifications. Additionally, there's a possibility of premature failure and lowering the CPU's lifespan if you overclock incorrectly. 
How do I overclock my Core i5?
Many users reported difficulty overclocking the i5 series processors, while other generation CPUs are easy to overclock. Follow the procedure below to overclock i5 gen CPUs without any hassle.
Enter BIOS Mode
First, you need to restart your computer to enter BIOS mode to begin the overclocking process. The key to enter the BIOS mode depends on the brand of motherboard you're using. For MSI motherboards, pressing the "Delete" key while the system is booting up takes to the BIOS.
You can see a message similar to "Press Del to enter SETUP," which usually flashes by quickly on any motherboard. However, you can find your BIOS key easily by searching your brand on the internet.
CPU Configuration
From the BIOS, go to the OC Tweaker or similar options for the other mobos where you can edit CPU, VRAM, or Voltage configuration settings. Click the CPU configuration and select the CPU ratio to 'All Core' and set the all core ratio to 50. Set the CPU cache ratio at 45 or higher. However, the 45 cache ratio is somewhat a standard value.
Keep the minimum CPU cache ratio and BCLK frequency to auto.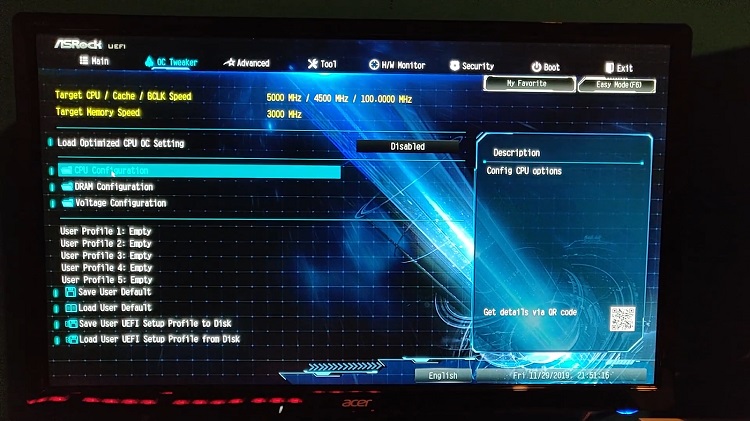 Voltage Configuration
Now go to the Voltage Configuration tab below and set the CPU Core/Cache voltage to Fixed Mode. Keep the CPU load line calibration at level 1 or 2 for a stable performance. Leave the rest of the settings as it is.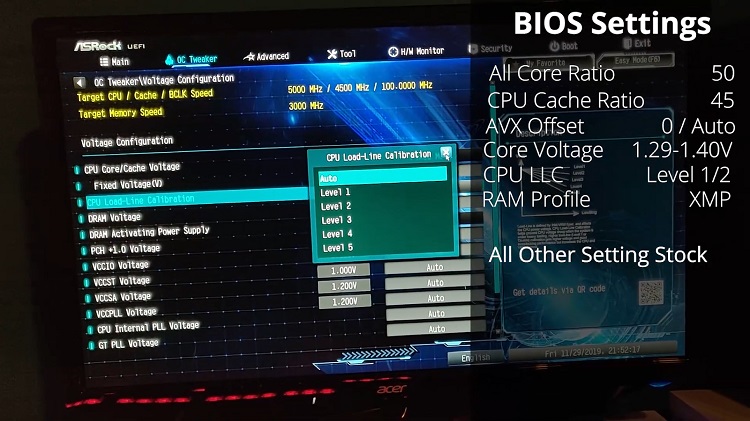 DRAM Configuration
Make sure you have the right XMP profile enabled in the DRAM configuration settings. Set your RAMs to the maximum speed to run at their full potential. If your RAM specs are 3200MHz, chances are that your PC is running in another XMP profile at a slower speed.
Is the 8600K a good CPU?
The i5-8600K is one of the best gaming CPUs in the market, with six overclockable cores. Featuring a base clock speed of 3.6GHz with a max Turbo Boost speed of 4.3GHz, i5-8600K is. However, there are some CPUs that are better valued by comparison. By using a more substantial liquid cooler, you can achieve more speed and performance.
Is CPU overclocking worthwhile?
Overclocking your components certainly boost your performance, but it does cost your component's lifespan and decrease system stability. Pushing the components too far may lead to damaging and overheating the system. If you don't actually need the extra boost, it's better not to overclock. 
Is the i5 10600K Overclockable?
The i5 10600K is well overclockable, with a stable operating CPU temperature and higher performance. Make sure you have a good thermal management system and your PC is not overheating while running high-spec games or applications. 
To Conclude
After the overclocking process, download any utility software to check the specific temperature of your components. If the heat rises to an alarming 75-80 degrees Celsius, you need to undo the changes to get a stable temperature. Go slow and small changes at a time while monitoring voltages, temps, and other vital parameters while running benchmarks or other tests.