Losing precious data, work material, and memories can never be replaced. As technology is getting more intimate with our daily life, we like to store more data rather than pile it up on files and cabinets. 
But when they are corrupted, or accidentally deleted permanently, you have very few options to get them back. This is where a recovery tool comes in handy. 
Among the data recovery tools, Stellar Data Recovery Professional stands out significantly. Not only because of its clear interface and easy operation, but the function to detail also sets it apart. 
We have tested the tool ourselves and came up with the following verdict.
Stellar Data Recovery Professional Review | Background and First Impressions
For over 20 years Stellar has been in the data recovery game. If you look further back, they have crafted out a recovery tool like no other. Sure there are others in the market, but the variety of options to retrieve even a specific type of file rather than a whole drive or partition, that's hard to get. 
From our first download to installation, it only took a few minutes. And you are directly taken to its configuration window. 
Here you get to choose the type of files, drives, partitions, and software you want to retrieve. This is a basic quick scan recovery that takes only over 10 minutes or so. 
And least to say, we are impressed with it. But is it able to handle large file types? We dig deeper into it in the following stages. 
Compatibility and Required Configuration
Compatibility isn't an issue for Stellar Data Recovery Tool. It can work in any machine having just 4 gigs of RAM and a Windows 7 OS. 
Anything below that will start to slow down. We also tested it with our more powerful 8GB RAM PC and it took less time to process. But the RAM usage spikes while it is working. About 75% of it to be precise. 
So if you are doing a deep scan and recovery, we suggest you stop doing anything else on the pc. And let the magic happen.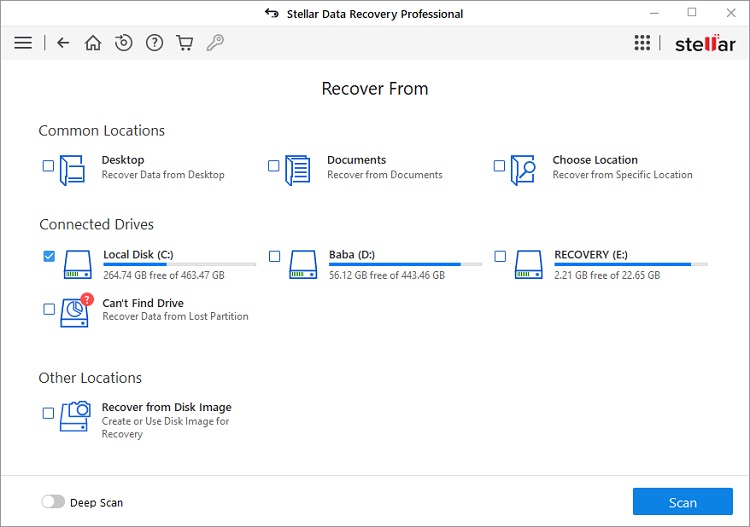 Many Users, Many Options
There is a saying, the more the better. This is especially true for Stellar Recovery Tool.
With the free version, we were able to retrieve a file that was under 1GB. But for larger-size files or drives, you will need to get the professional version. 
A Standard 1-year license costs $59.99. And a Professional and Premium option can go up to almost $100. This is understandable for the unlimited amount of data that you can recover. 
So if you are getting it to retrieve a large amount of data, we suggest you get a Premium one. For individual use, the Standard will suffice.
Recovery File Types
The coolest thing about Stellar is its versatility. It can not only recover data from your hard drive, but also flash drives, external hard drives, memory sticks, and even CDs. 
There is a vast number of options that you can choose from when it comes to configuration. You select any specific file type in the system to date and it will recover it. This includes Adobe Photoshop and Illustrator files, weblinks and sites, image files, video and audio, and document files.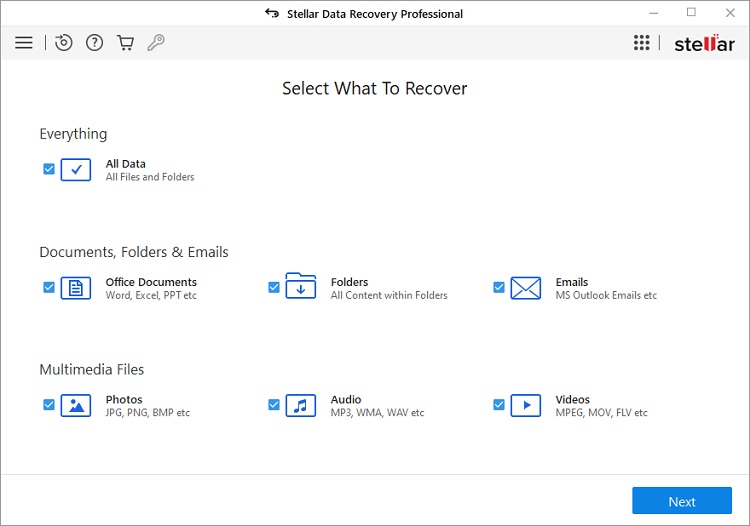 Another great feature is that you can create and retrieve bootable drives too, which is neat as you can get back your lost portable OS and whatnot. 
Pros
Works as intended. 
Can recover huge-size files. 
Has different premium options, both monthly and yearly. 
Specific custom file retrieval option. 
Cons
Full recovery takes a long time. 
Frequently Asked Questions 
Is Stellar Data Recovery really free?
Yes. You can use Stellar Data Recovery for free. But it has a limit of 1GB data recovery size. For larger size recovery options, you can choose from any of the Standard, Professional, and Premium options. 
Is Stellar good for data recovery?
Yes. If you are looking for a highly customizable data recovery option, Stellar is on the top list of tools. We highly recommend it for both personal and professional use. 
Can Stellar recover deleted files?
Yes. Stellar can not only recover deleted files but also can recover corrupted, partially disfigured, or bootable files. The device option is also extended to removable hard drives, flash drives, CD/DVDs, and online options. 
Conclusion 
We highly recommend Stellar Data Recovery Tool. From our perspective, it's essential for today's technology. You don't know when your device's memory will fail on you. And Stellar can save you from a lot of heartaches and lost memories.