Are you tired of sharing contacts one by one, and want to share several contacts for personal and business purposes? Okay, then the VCF file is for you, which will allow you to save multiple contacts as well as to share that contacts within a single file. Throughout, the article we are going to know the whole nine yards of some methods detailing how to create VCF files, and how to open VCF files effortlessly. If you have already created or received vCards, and your computer failed to open that file, just have a look at the ways below to be able to open files both online and offline.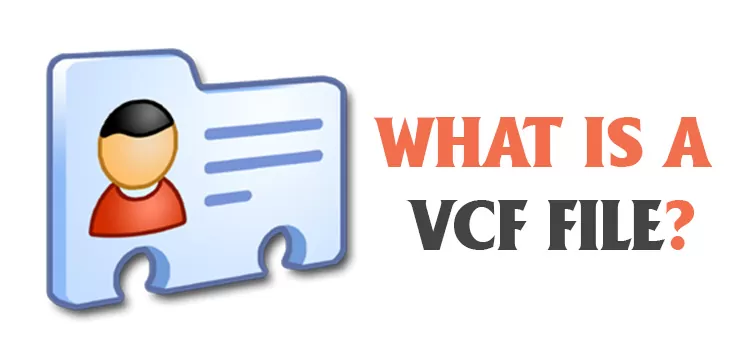 What Is a VCF File?
So, what is vcf file extension? VCF stands for Virtual Contact File, which is referred to as vCard too.
We all might be acquainted with "file extension" such as ".pdf", ".png", ".xls",".xlsx", ".jar" etc. Like all these file extensions, ".vcf" is also used as a file suffix or vcf extension after file name to create a VCF contact file of vcf format in your system. The file extension aids an Operating System like Windows or macOS to determine the associated program with the file extension on your computer.
VCF, the standard file format is used to store contact information for individuals and businesses and allows them to utilize both online and within desktop environments. Contact information such as the contact name of the person for whom the file is being created, address, email address, phone number is in that VCF file format. The most exciting part is -it also allows the images and other media content.
VCF files are used to store contacts from address books. The files can also be sent to another person to give him/her access to the sender's contact information without any loss of data during the transfer.
The vCard format after gone through multiple revisions has reached most recently to vCard 4.0.
How to Create a VCF File with Multiple Contacts
We are here to serve you the easiest way of creating a vcf file. The virtual business cards i.e. VCF cards are distinctive computer files that have the ".vcf" suffix and are stored within your computer's email or contact collection program. VCF data cards can be easily developed by using your present contact details. If you still don't have a Gmail account, here's the tutorial to create it.
How to Create VCF File in Windows
Creating a card file in Windows is easy. Windows users can create multiple vcf file by performing the steps below.
Firstly, do open Microsoft Outlook, Edge, or similar contact/email program by clicking on the icon which is easy to find on the desktop or "All program" menu.
Secondly, go to "Home," click on the "New items," and then "Contact". The New Contact dialog box will open.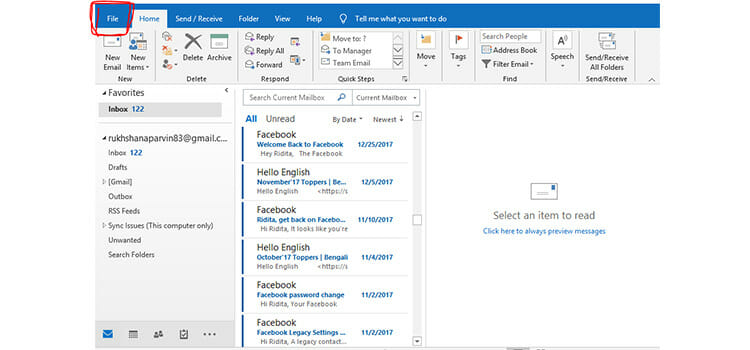 Enter the contact information into the dialog box– full name, telephone numbers, email address, address, company name, and job title.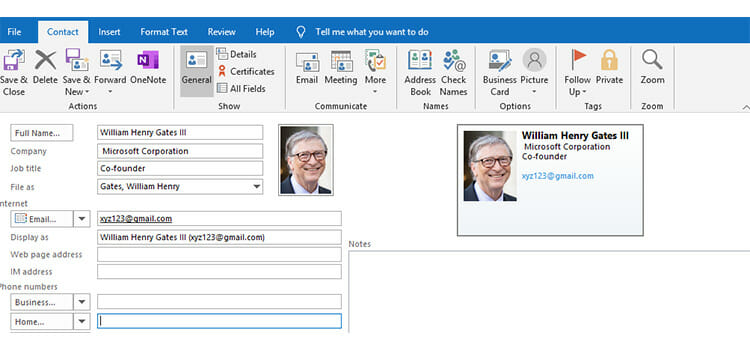 NOTE: The name and picture of Bill Gates are taken as an example don't take it otherwise, the email address is also not authentic. 
Click "File," "Save As" then follow as shown in the picture below.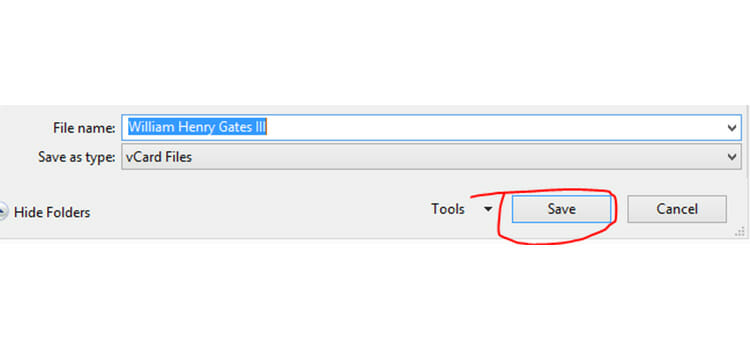 vCard is now created and saved to your computer.
How to Create VCF Files in Mac
Mac users can simply create a VCF file to store their contact information by performing the steps.
Clicking on the program's icon of address book open it on your Mac "Desktop" or the program's name in the "Applications" folder of your Mac's hard drive.
Go to the File option and then to the new card option.
Contact information that is desired such as full name, telephone numbers, email address, address, company name, and job title, etc. should be put into the "New Card" dialog box.
Click on the "Edit" button to check the finished contact card.
Click "File," then "Save Changes."
Select "File," and then "Export vCard.", doing this will open a dialog box from where you can choose the place where you want to save vCard.
Travel over the directory where you will save the VCF card to.
For creating a VCF card of address book in your computer click on "Save"
By following the above-stated steps VCF files can be created in Windows and Mac.
How to Open a VCF File
When you want to communicate with any person or with any Company for business purposes, the contact information that is saved as a VCF file needs to be opened. To see or to share the contact information you have to preview your saved vCard by supported apps.
vCard is supported by the followings: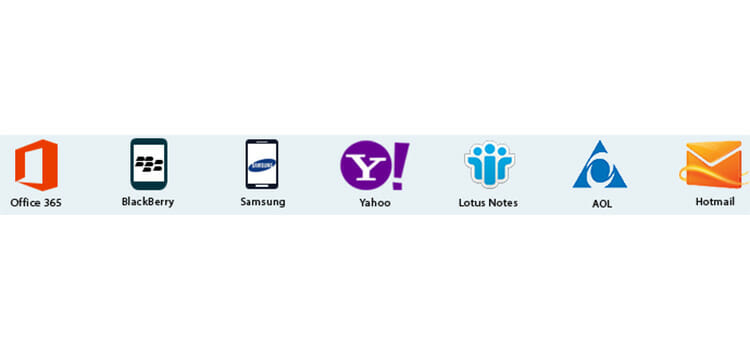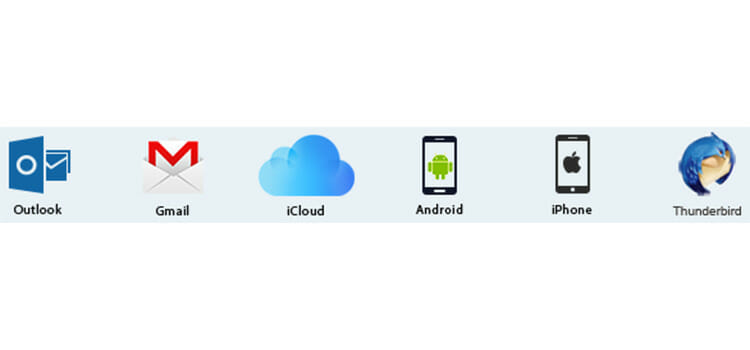 I can suggest some ways to open a VCF file to see the contact information.
How to Open VCF File Online
To view a VCF file, you must need the computer where the vCard is saved. You can use google contacts, iCloud, Yahoo, etc. as vcf viewer online.
Some websites let you view your saved vCards directly. You have to visit the websites by your computer's browser. Then selecting the vCard file format lets you see it online. This is as simple as that you can't imagine. Now, I am going to show you the process to open vCard by Google Contacts app, iCloud, and Yahoo in brief.
How to Open VCF File Using Google/ Gmail Contacts:
Well, you can view your VCF file on Google, and can make Google your online VCF file viewer for free. Just go through the steps listed as follows.
1. Type https://contacts.google.com/ in any browser on your PC or android phone. If you are not logged in with your Gmail account, you have to log into your account to continue further.
2. After logging into your account you need to choose "Import" from the option.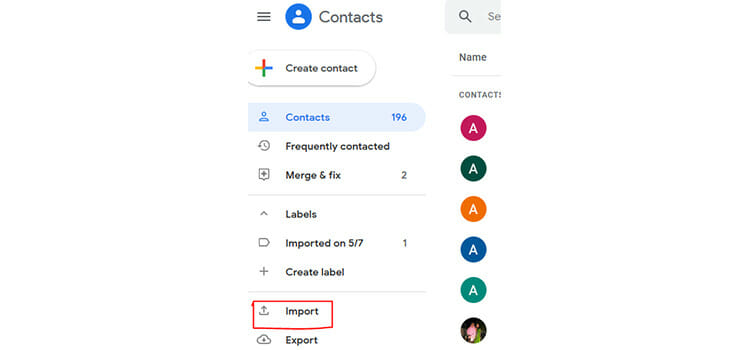 3. Now, choose the vcf file you want to open.
 4. After choosing the desired file click on "Import" and then google will check the vCard file & show the contact information in the google contact.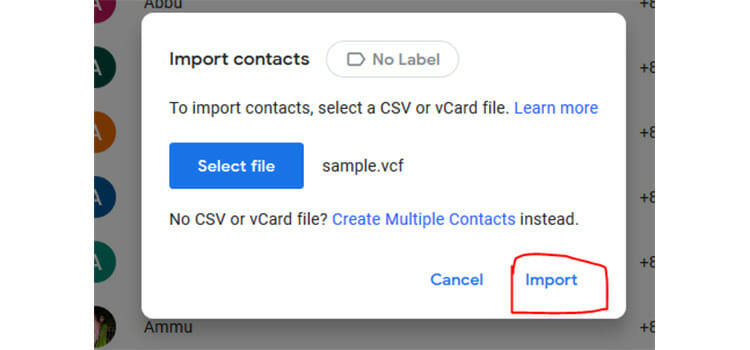 How to Open VCF Using ICloud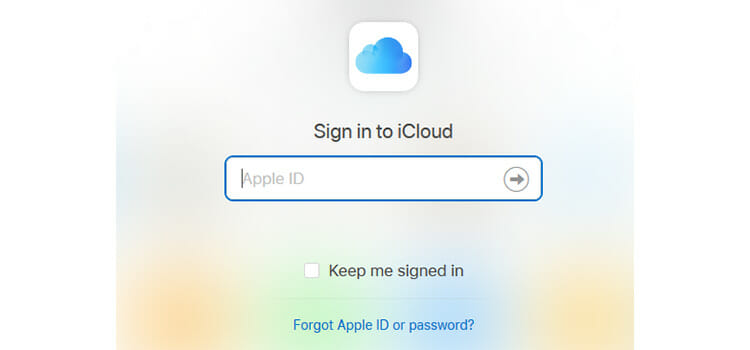 You can view the contacts on your Computer by using iCloud if you have an Apple ID. Simply do as directed.
1. Type https://www.icloud.com/ in your browser. If you are not logged in, do log in with the email address and password of your Apple ID.
2. By clicking on the Contacts app, open your contact list.
3. From the ''Settings" option choose "Import vCard"
4. Then Select the VCF file that you want to see.
5. Now clicking "Open" will make that VCF file to add to the iCloud contact list.
How to Open VCF file Using Yahoo:
To open vcf files with Yahoo search https://mail.yahoo.com/ in any browser of your PC.
Then your Yahoo account will be shown if you are logged in, otherwise, you need to log in. Choosing the Contact icon will lead you to a dialog box. From there, select the desired .vcf file as before to import contacts. Now, you will be able to see the contact information as it is added to your Yahoo account.
How to Open VCF File Offline
To see the vCard within your desktop you need to have Microsoft Outlook Or Microsoft Excel installed in.
How to Open VCF File Using Microsoft Outlook
 It is quite easy to view a VCF file in Outlook. I am showing it on Outlook 2016.
Open Outlook from the desktop.
From there click on "File", doing so leads to this window.
Now Click on "Open & Export"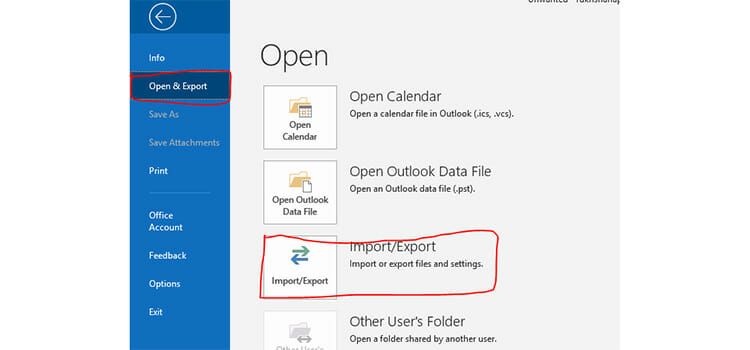 Then, select "Import/Export" this will lead you to the following Import and Export Wizard. We can see in the picture below that we have to choose "Import a VCARD file(.vcf), and then "next".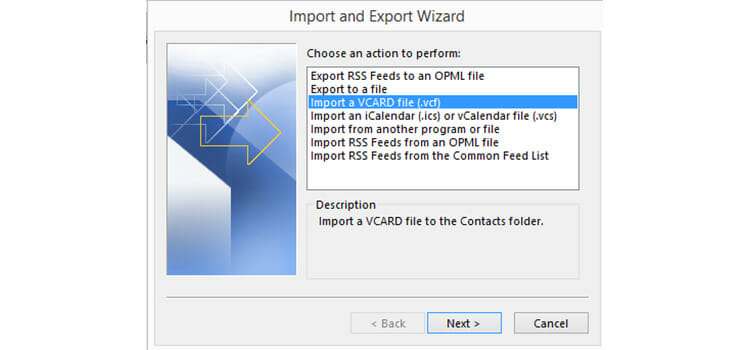 After selecting the file name and pressing "open", the information in that file will be shown in Outlook contact.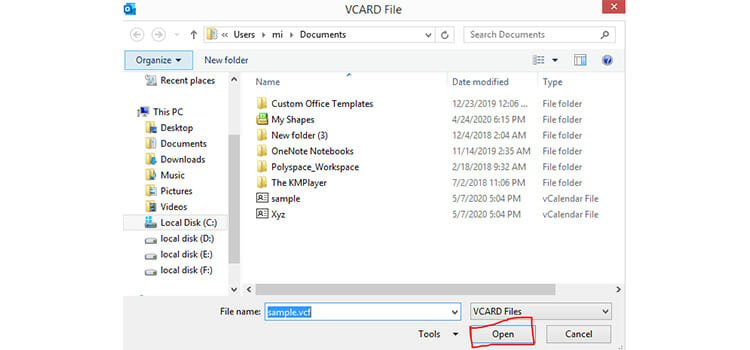 How to Open VCF File Using Microsoft Excel
This file format is getting much acceptance as it is supported by many software programs. The files can also be opened in Excel like CSV file to view the recorded information. To open a VCF file, you need to perform the following task.
1. Go to Excel by clicking the icon from the desktop or "All programs".
2. Now, click "Open" and then double click on "This PC" to find the destination where the file was saved.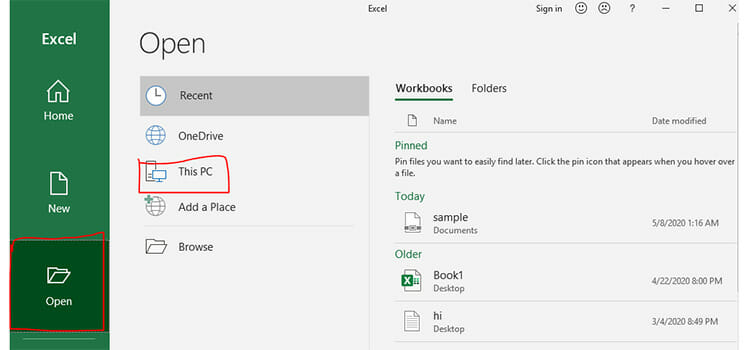 3. Now, go to the folder where the files are saved. Be aware of the fact that file types must be kept to "All Files", otherwise you can't find the files which don't have .xls or ".xlsx extension. Choose the desired file and click "Open"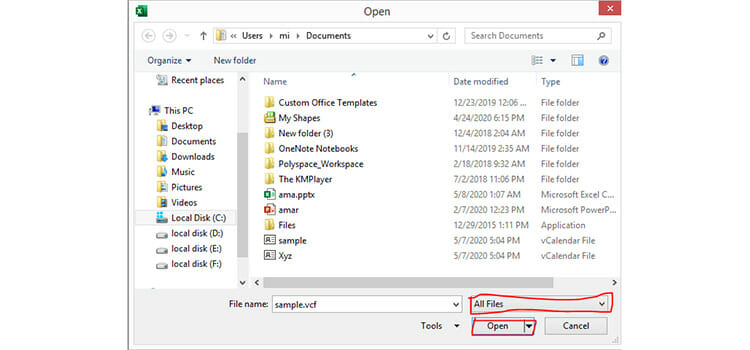 4. Then, "Text Import Wizard" will open, select "Delimited" and press "Next". This is the first of the 3 steps.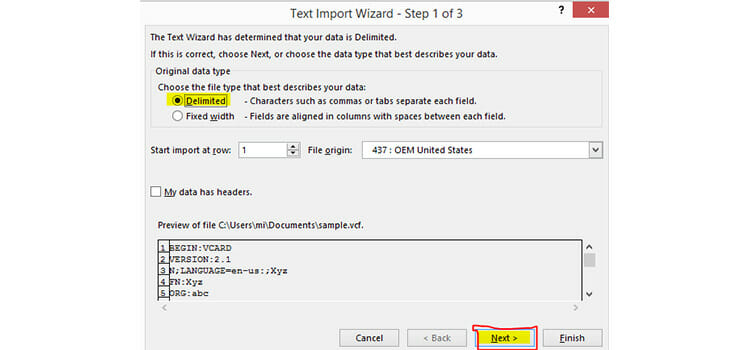 5. From this Wizard, select "Tab" and then "next" which is highlighted in the picture below.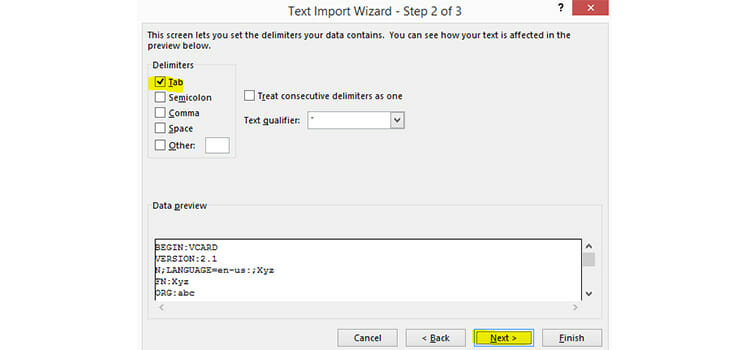 6. This Screen lets you select each column and set Data format. Choose "General", and then "Finish". You can see the contact information in Excel file now.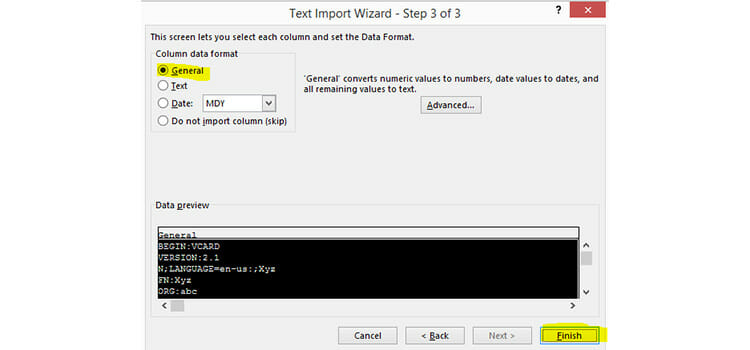 How to Open VCard Using Software:
As we all opt for an automated solution for making our task easy, I would like to recommend some software which can lessen your time and effort and also can help you effectively.
1) The vCard viewer Tool
2) SysTools VCF Viewer Tool
There is more software like this on the internet. You can download them by searching with any browser on your PC. Those are much useful to open, to read, and to view VCF files in bulk and can show count of contacts in a single VCF file. Moreover, it is compatible with both single & multiple contact VCF files and supports windows 10 and all the versions below it.
Frequently Asked Questions
How large is a VCF file?
A VCF file's size can be more than 100 GB and for this reason, these files are compressed most of the time.
Are VCF files safe?
The VCard file contain crafted data which are threats for Windows. Due to this, you can have dangerous hyperlink on your PC. Also it can create a perfect path for attackers to execute code into your system.
At the End
 I think you are now well versed in a vCard file and how to make vcf file and open it. VCard is worthwhile by giving us the scope of keeping count of contact information in a single file. As it is getting updated gradually, we should avail of vCard more. I hope this article will help you with providing the information that you have to know if you want to deal with VCF files.