4k 30fps Vs 1080p 60fps | Which Combination Is Better? 
We all know that 4K resolution is much better than 1080p and on the other side, 60 frames per second (fps) is better than 30 fps. For this, many video enthusiasts and professionals are often confused while choosing one resolution between 4k 30fps and 1080p 60fps.
So, what should you go with – the stunning clarity of 4K at 30 frames per second (fps) or the smoothness of 1080p at 60fps? The choice between 4K resolution at 30 frames per second (fps) and 1080p resolution at 60 fps depends on your specific needs and preferences.
In this article, we will discuss the key differences between 4k 30fps and 1080p 60fps to help you determine which option is better suited to you and your device.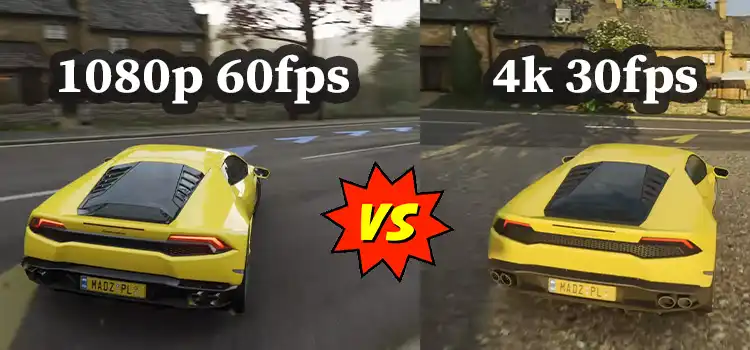 Resolution vs Frame Rate: Understanding the Basics
Before we move any further discussion about which one is better between 4k 30fps and 1080p 60fps, it is crucial to understand the basics of resolution and frame rate. Let's explore them first.
Resolution: 4K vs 1080p
Resolution refers to the number of pixels in each frame. It determines the level of detail and sharpness in a video. The higher the resolution, the more pixels are packed into the frame; As a result, you can get a clearer and more detailed image.
4K resolution contains approximately 3840 x 2160 pixels per frame. It provides detail and sharper image quality compared to 1080p resolution.
1080p resolution, on the other hand, has a resolution of 1920 x 1080 pixels per frame. It also offers good image quality but with less detail compared to 4K.
Frame Rate: 30fps Vs 60fps
Frame Rate: determines how many frames will display within a second of video footage. It is measured in frames per second or fps. The higher the frame rate is the smoother the motion is. At higher fps, you'll face less motion blur; As a result, you can experience vivid picture viewing.
30 fps means it can show 30 frames in one second. It can provide a decent level of smoothness, but fast-moving objects may appear slightly blurry compared to 60 fps.
60 fps, on the other hand, refers to 60 frames in one second. As a result, it offers a higher level of smoother picture or video quality, especially for fast-moving objects like sports or action scenes.
As now you know all about the resolution and fps, let's find out the key differences between 4K 30fps and 1080p 60fps below.
Differences Between 4K 30fps Vs 1080p 60fps
Here's a comparison table to highlight the differences between recording videos in 4K resolution at 30 frames per second (fps) and 1080p resolution at 60 fps:
| | | |
| --- | --- | --- |
| Aspects | 4K 30fps | 1080p 60fps |
| Resolution | 3840 x 2160 pixels | 1920 x 1080 pixels |
| Frame Rate | 30 frames per second (fps) | 60 frames per second (fps) |
| Video Quality | More detailed and clear | Slightly less detailed |
| Smoothness | Less smooth during motion | Smoother during motion |
| File Size | Larger file size | Smaller file size |
| Compatibility | Requires 4K-compatible devices for optimal viewing | Compatible with most devices |
| Slow Motion Capabilities | Limited slow-motion options | Better slow-motion capabilities |
| Rendering | More processing power is required | Can render at less processing power |
| Streaming | Higher bandwidth is required for streaming | Can stream at a lower bandwidth |
According to this comparison table, you can see that the 4K 30fps can provide a sharper and more detailed video quality while you may get slightly less smooth in 1080p 60fps. But you'll get a smoother motion experience with 1080p 60fps and can watch in slow-motion much better than 4K 30fps.
Again, you can enjoy 1080p 60fps on almost every device while it is mandatory to have a 4K display to watch a video at 4K 30fps. So, in this case, 1080p 30fps is the winner here. 
However, both resolutions are best for different purposes. 4K 30fps is ideal for capturing detailed scenes, professional production, and large displays whereas the 1080p 60fps is suitable for fast-paced action, sports, and smooth motion playback.
So which resolution between them is better? Let's identify below.
To understand the differences visually, watch this video below:
Which Combination Is Better: 4k 30fps or 1080p 60fps?
With a resolution of 3840 x 2160 pixels, 4K provides four times the number of pixels found in 1080p. As a result, you can enjoy incredibly sharp images and the ability to zoom in without a significant loss in quality.
But as 30fps can fetch half of the frames compared to 60fps, you can't enjoy smooth motion with it. That's the reason why 4K 30fps is famous for its breathtaking detail and 1080p 60fps is known for its smooth motion.
Why 4K 30fps is Better
Incomparable Detail: The increased pixels of 4K 30fps increase the sharpness and quality of the image or video under this resolution. Increasing the details makes the visually stunning.
Future-Proofing: 4K contents are becoming popular day by day on all platforms. Opting for this resolution ensures your videos remain relevant and compatible with evolving standards.
Flexibility: The 4K 30fps means ultra-HD image or video quality. For this, cropping and reframing won't reduce the overall quality. It gives you the flexibility to watch the video on both – bigger screens and smaller screens. 
Why 1080p 60fps Is Better
Smooth Motion: The increased frame rate of 60fps renders motion more smoothly. You'll encounter less motion blur in a video at 1080p 60fps.
Real-Time Events: The 1080p 60fps resolution is more suitable for real-time actions like sports broadcasts or live performances. Because it will provide the best accuracy in the video with moving objects.
Compatibility: 1080p 60fps is widely supported across various devices and platforms.
Less Storage: Compared to 4K 30fps, 1080p 60fps requires less storage space as the file size of this resolution is smaller than a file of 4K 30fps resolution.
Bonus Tip: Things to Consider While Choosing the Right Option Between 4k 30fps and 1080p 60fps
The decision of whether you should go for 4K at 30fps or 1080p at 60fps ultimately depends on your specific requirements and the purpose of your videos. Here are some factors that you need to consider when choosing one option between them:
Type of Content: If your preferred content is required intricated details or crystal-clear images, then 4K at 30fps is the ideal choice. But if the content is something like real-time events or fast-paced actions, then 1080p at 60fps will be the best option for you.
Playback Devices: If you have a 4K display, then you can go for both – the 4K 30fps or the 1080p 60fps. But if your display is limited to 1080p, then you won't notice any significant difference between these two resolutions.
Requirements: It also depends on the requirements of the task you are going to do with the resolution. If you are intended to play 4K games or watch 4K movies, then 4K 30fps is the ideal choice. But if you want to stream movies or play low-demanding games, then 1080p 60fps is good to go with.
Storage and bandwidth: 4K videos require more storage space and higher bandwidth to stream or download compared to 1080p videos. Consider your storage capacity and internet connection speed when making a choice.
FAQs (Frequently Asked Questions and Answers)
Is 4K 60FPS better than 4K 30FPS?
The differences between 4K 60FPS and 4K 30FPS can be subjective, as it varies based on personal preferences. However, from a video or gaming perspective, 4K 60FPS offers significantly smoother performance compared to 4K 30FPS.
Which is better 1080p/60FPS or 4K?
If quality is your first priority and your device is capable of handling it, you can go for the 4K resolution. However, if your device's capabilities are limited, 1080p 60fps would be more than enough.
Why does 30 fps look better than 60 fps?
A frame rate of 30 fps means that 30 static images will be displayed per second, whereas a frame rate of 60 fps means that 60 static images will be shown per second. That's why higher frame rates offer a smoother and more fluid appearance.
Conclusion
Which is better between 4K at 30fps and 1080p at 60fps ultimately depends on your specific needs and priorities. Because both will provide you with excellent image quality. Though you'll get slightly less detailed image quality on 1080p 60fps, you can get better images while in motion in this resolution. Also, this is compatible with most devices. So, it'd be best if you opt for this resolution. That's all for today; Thanks for reading.
Subscribe

to our newsletter

& plug into

the world of technology