The most unpleasant thing in the cyber world is that We Are Using Cyber Technology Against Us! Yes, it is the most real truth. Millions of internet users and businesses are struggling against the evil eye of Adware infection. Most of us have encountered this threat but surprisingly very few know about it.
An artful tiny piece of code can steal our private information, monitor our internet activity, crash the system of the device, and so on. Don't take it easy if your PC is popping up too many ads but as a threat to your device. Know how to prevent Adware before it is too late..!!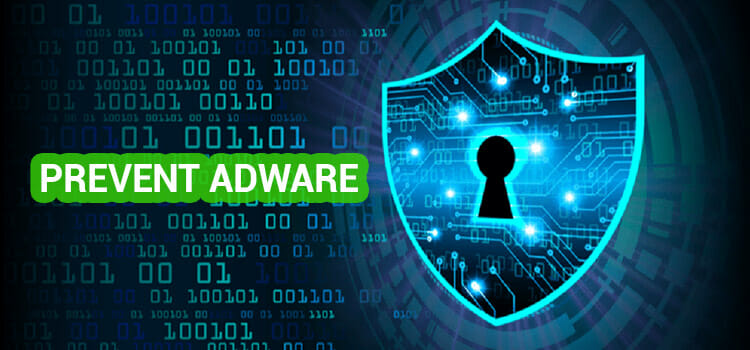 What is Adware Virus – Safe/Threat??
Well, there are both some good points and also some setbacks that exist regarding Adware. In some cases, your computer or mobile does not get any damage from having pop-ups on your web page while surfing. They just bother your browsing experience with annoying advertisements outside of the program/files you download.
In contrast, some certain pop-ups and ads do not behave friendly at all and could be threatening. Computer settings can be undermined and manipulated without your permission. Great Annoyance..!!
Moreover, by tracking your web browsing history, these unwanted guests could change the internet setting of your browser, which lowers down the stability of your system and makes it slow.
The most concerning issue is, most of the adware links to spyware, which is programmed to install itself without your consent. Obviously, it is a major security threat..!! This malicious adware can track your personal information and even share/sell it to third parties.
Here you can differentiate them more easily.
| | |
| --- | --- |
| Non-threatening Adware | Threatening Adware |
| Non-threatening Adware is those which take your permission to install it on your computer. | Installs itself in disguise of other applications without your permission. |
| You can remove or uninstall them easily. |      2. It is not that much easy or even impossible to delete/ remove them.  |
| Pop-ups appear inside the application very often. |      3.  Remains hidden in the disguise of other apps, changes settings, displays too much obnoxious ads. |
| It does not collect/steal your personal information |      4.  These malicious adware observe your web browsing history, steal your personal information even sell to third parties. |
How to Avoid Adware Virus?
There are many solutions to prevent your computer/ mobile from this kind of malicious program.
Keep your Device Updated: Your first and foremost duty would be to make sure regular upgrades of your device so that the security of your device remains tight. As a result, hackers can not find the plugholes to harm your device. Windows Defender, Symantec Endpoint Protection, or other security software blocks only those which they know. Therefore, it is important to update them weekly or monthly.
Use Antivirus Software: Before getting infected by any Malware on your device, defend them with an antivirus as this is the best and easiest solution for you to secure your device permanently.
Be Sure Before Clicking: As we know that Adware appears on our device with pop-up advertisements while we use a web browser and unfortunately these pop-ups contain harmful viruses. Therefore, be very cautious before clicking on any of these ads, avoiding these ads fully is a better idea to prevent unwanted viruses in your device.   
Be Cautious Before Download: something that is from unknown sources. These files contain different kinds of attachments, files, drives, etc. So, confirm the sources' legitimacy.
Some emails, links, files, and drives seem legal or legitimate but you should test those with a URL checker. My suggestion would be to use Google Transparency Report to check those sites before browsing.
Do Not Run Programs As an Administrator: Most programs that are run in Windows do so in the "user context", or with the permissions that you as the logged-in user have. It is better not to run all programs as "Run As Administrator". If there remain any malicious programs in it, will be executed to damage your pc. So, avoid it!
Use Verified Websites: Try to collect any information especially when you want to download or click on any advertisements. Check if they are properly spelled. It's always better to use trustworthy websites for your safe browsing experience.
Frequently Asked Questions
What is anti-adware?
It is a kind of software that protects your PC from getting attacked by Adware viruses, Malware, Spyware, etc. Malwarbytes, Rkill, AdwCleaner, HitmanPro are some of the popular anti-adware software.
Does Sophos protect against adware??
Yes, it is one of the best computer protection software currently. Besides, you can try Malwarbytes, Rkill, AdwCleaner, HitmanPro, etc for other protection option.   
Can Antivirus remove Adware?
The actual reason to build an antivirus is to detect Adware or Malware but also has the ability to encounter the virus. Different software have been built to protect our devices from these harmful
What is the best Adware remover?
You can choose any Adware remover out of many available options like Avast Free Antivirus, AdwCleaner, HitmanPro, AVG Antivirus, Malwarebytes, and so on.
Conclusion
In order to ensure our virtual safety and cybersecurity, there is no other option but to gain knowledge about things that can harm our computer as well as our privacy. Thousands of Adware viruses are getting detected every day after taking safety measures properly. In this regard, our devices are not safe at all. Ultimately everyone must learn to protect their computer and mobile from these cyber attacks. Hopefully, the mentioned precautions can make your browsing experience smooth and safe.