Whisper posts not showing up is a common happening for the users. 
Do you have the same issue using the Whisper app? 
Then, you are in the right place to get solutions. Here, I am going to examine the Whisper app and find out why exactly it isn't working? I will share some potential troubleshooting steps and solutions as well for you.
Fortunately, if your Whisper app stops working, it is possible to fix it. You are highly recommended to go through the content to get answers to all your question related to the issue.
Let's explore.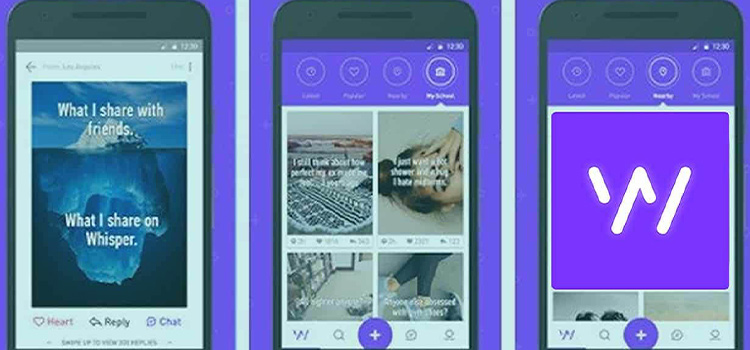 What Is Whisper?
Whisper is a free anonymous social media platform where people can post and share their actual thoughts, photos, and videos anonymously. 
That means the application allows you to communicate anonymously. There are no friends, followers, or profiles. The app uses people's locations and lets them add a school or group, but it doesn't require images or email addresses. When users join, they are given a random nickname.
Nevertheless, anonymous apps like Whisper provide you with a lot of freedom, but if you abuse them, you might harm yourself or others! So you have to be careful about such kind of anonymous application.
Common Whisper App Issues
You could be encountering several issues with the Whisper App for several reasons. The most common concern that app users have reported are the following-
whisper posts are not showing up.
When someone launches Whisper, she gets a white (blank) screen.
The Whisper app isn't loading.
The chat feature is not functioning.
Notifications from the Whisper app are not showing.
The whisper app isn't updating properly.
Your Whisper account is banned.
These are the defaults that users have complained about. We will discuss the solutions in further paragraphs.
Why the Post Disappear Issue Happens in Whisper
The whisper app on your device is not showing up on the post either because of some technical issues in the Whisper app or an unstable internet connection.
Apart from that, there is a possibility you have recently updated the Whisper app and it includes a bug or malfunction. 
How to Fix 'Whisper Posts Not Showing Up?'
Whatever the reason is, the issue is resolvable indeed. I will discuss the solutions. To solve the issue, you may follow the solutions given below. Before that, let's check the list first.
Fix 1. Wait a While till the Technical Issue Is Resolved
Fix 2. Examine Your Web Connection
Fix 3. Clean Whisper App Cache
Fix 4. Whisper App Should Be Uninstalled and Reinstalled
Fix 5. Upgrade to the Most Recent Version of the Whisper App
Fix 6. Turn Off and on Your Phone
Fix 1. Wait a While till the Technical Issue Is Resolved
If the posts are not showing up, there's a high possibility that there could be a technical problem with it, Whisper app team is aware of the issue and is working to fix it.
In this situation, you have no alternative except to wait until the Whisper team resolves the issue.
Fix 2. Examine Your Web Connection
You have to ensure that your internet connection is fast and consistent. You may have issues using the Whisper App if your mobile data connection to the wifi network is unstable.
So, you need to take a look at your internet speed. Then, check your network or turn on and off your mobile data if you are using wifi.
Fix 3. Clean Whisper App Cache
Deleting the app cache usually solves the problem when an app is going through any trouble.
So, you have to clear the Whisper app cache to resolve the problem. To clear the Whisper App's cache, you might follow the steps given below:
For Android Users 
Step 1. 
First of all, you have to go to the settings in your mobile settings option.
Step 2. 
Then, you need to go to the application manager.
Step 3.
Now, tap on the Whisper app
Step 4.
Finally, you should clear the cache by tapping the Whisper app.
For iPhone Users
Step 1. 
First of all, you have to go to iPhone settings.
Step 2. 
Then you need to find Whisper App and click on that.
Step 3. 
You should press the delete key.
Step 4. 
Finally, reinstall the Whisper app.
After clearing the cache, see if the Whisper app works.
Fix 4. Whisper App Should Be Uninstalled and Reinstalled
To resolve the Whisper app issue, uninstall and then reinstall the app. Uninstalling and reinstalling the Whisper app might sometimes resolve the error.
So, first, uninstall the software from your phone, then reinstall it and see whether Whisper whisper posts not showing up or not.
If the Whisper app is still not working, try the following solutions.
Fix 5. Upgrade to the Most Recent Version of the Whisper App
To resolve a Whisper app issue, you may upgrade the app to the most recent version, as older versions may not function properly.
If your Whisper app is out of date, it may not function properly.
Additionally, updating the Whisper app to the most recent version will resolve all previous bugs identified by the Whisper support team.
Note: You can also enable automatic app updates, which will keep your app up to date and bug-free at all times.
Fix 6. Turn Off and on Your Phone
If the above method does not work, there may be an issue with your phone rather than the Whisper app. As a result, you can close the Whisper app and restart your phone.
Next, you might check if the Whisper app works properly after restarting the phone.
Frequently Asked Questions
Can You Get in Trouble on Whisper?
Whisper is a popular social networking software that allows users to communicate anonymously. Although Whisper does not track or follow its users and does not collect or store any personally identifiable information from users. 
However, users should keep in mind that nothing on the mobile web is completely anonymous, especially on a free service that will eventually need to commercialize. Users should also keep in mind that a security incident last December exposed 4.6 million user names and phone numbers on Snapchat, another popular app for sending confidential messages.
Parents always have reason to be worried about Whisper, and if your child is using it, you should approach with care.
Can Someone Track Me on Whisper?
Whisper claims that they do not track users and collect any personal information from our users to maintain anonymity.
Whisper uses a GeoIP (IP Geolocation) application to determine your position by looking at your IP address. 
However, the application does not guarantee anonymity for its users with absolute confidentiality.
What Happened to the Whisper App?
Whisper will not be closing down anytime soon; despite the lack of revenue, the service generates or board members stepping down. Since 5 or 6 years ago, the world has made significant progress toward becoming a more tolerant place for all people; yet, there is still much space for improvement.
Why Can't I Send a Chat on Whisper?
You can't send a chat on whisper because at first, you must confirm your e-mail address in Account Settings. You can resend a message from outworld to validate your account if you haven't received it.
Final Words
To sum up there is a possibility that Whisper App is experiencing some technical glitches. So, in this case, you should wait till Whisper App's technical issues are resolved. Hopefully, you have found the article helpful.