How to Convert Coaxial to Ethernet | Remove All Confusions
Even in this modern age of the internet, many households have full-house coaxial wiring because they can provide cable signals as well as internet signals.
So if you were wondering how to convert coaxial to ethernet, you need a MoCA adapter to do it.
Continue reading below to find out more on how to convert the coaxial to ethernet using the MoCA adapter.
Are looking for coax to ethernet adapter? Here is the best MoCA 2.5 coaxial to ethernet adapter we found for you:
[aawp box="B088KVYZGK" description="none" template="horizontal"]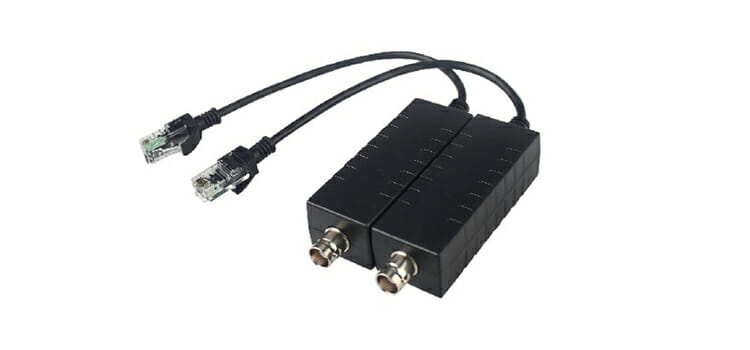 Converting Coax to Ethernet
You can connect Coax cable to TV without having a Coax input. But to convert coax cable to Ethernet, you can adopt two methods. They are by using Ethernet over coax or MoCA and using the Installation process. Now comes the details of converting the coaxial to the ethernet.
Method 1: Use MoCA Adapter
You can transform coax cable to Ethernet using Ethernet over coax or MoCA (Multimedia over Coax Alliance) technologies. Before doing this, we suggest you test your coax cable strength. MoCA technology is achieved by the use of MoCA adapters. MoCA sends your internet signal using your current coaxial wiring to give you the stability of a wired link without the high cost or difficulty of running Ethernet switch in your house. Did you know that you can hook up a cable box to the TV but not having an HDMI?
The MoCA network is the strongest of both worlds – wired and wireless. Since MoCA device adapters transform coax signal networking to an Ethernet network, you get a wired connection that won't be compromised by interruption, giving you a secure and fast Internet backbone. Coaxial ethernet adapter, MoCA network adapter works for almost every system that has an Ethernet port, so you can connect to a wireless router, mesh WiFi connection point, game console, or streaming device. You may have to splice Coax cable using a coax splitter for that.
MoCA adapters work by using existing coax wires in your home to build a wired MoCA backbone for great 4K video, lag-free gaming, and high-speed networking. It's plug n' play kit that takes only a few seconds without any hassles. If your modem or router does not have MoCA built-in, you would need two MoCA network adapters.
There is a lot of products in the segment of coaxial cable adapter to ethernet. This coaxial cable to ethernet adapter is one of the best devices to create a MoCA network you can buy. We can ensure that you won't regret buying this coax ethernet adapter.
[aawp box="B01MRV4WA1″ description="none" template="horizontal"]
How to Setup the MoCA Adapter
Take one of the HT-EM4 adapters and an Ethernet cable to begin. Attach one end of the MoCA adapter to a coax TV socket and the other end to the modem using the Ethernet cord.
Finally, attach the second HT-EM4 MoCA adapter to a different coax outlet in your building. It should automatically create a MoCA network connection with the router.
You will appreciate wireless Internet while still having a wired network experience with a secure, strong Internet connection connectivity using MoCA adapters. You can still run a coax cable from outside which is not that hard.
Method 2: Use the Installation Process
Any cable modem, whether purchased from a cable provider or purchased independently, accept coaxial cable as input and allow other devices to communicate with an Ethernet link. Many modern modems are also wireless routers, allowing users to connect via a Wi-Fi network, while others can be linked to a wireless router via an Ethernet cable.
The installer specialist will usually connect the modem to the wall with a coaxial cable and provide Ethernet cables for linking routers or other devices directly to the modem when you first sign up for cable internet service. You will do the same if you mount your modem yourself by following the instructions for connecting the coaxial cable and Ethernet cable in the proper locations. You should know about cable splitter and how you can use the best cable splitter to get the best output.
In certain instances, you will transmit an internet signal via coaxial cables that you already have wired for television coverage inside your home or office. You'll be able to enjoy the advantages of a wired network in several rooms without having to run fresh cabling. To link a computer with Ethernet jack to such a network, you can purchase a cable-to-Ethernet adapter. You should learn more about different types of ethernet cables like CAT5 or CAT6, etc.
While you will have to pay for the operation, the cable provider or a private IT firm will be able to assist you with setting up your home or office network in this manner.
Frequently Asked Questions
Is coax to Ethernet slow?
No, coax to ethernet is not slow. Using MoCA 2.0 compatible converters, you can reach gigabits speeds from coax.
How many Mbps can coaxial cable handle?
Coaxial cables can handle speed of up to 100 Mbps. Keep in mind though, that is 100 megabits per second, not 100 megabytes per second.
Conclusion
That is all about how to convert the coaxial cable to Ethernet. Here, you will be able to know how to convert coax to ethernet cable using MoCA and the installation process. Hope that you will clearly understand the procedure. Now, you have got all the information about how to convert coaxial to Ethernet. Thanks for reading the article.
Subscribe

to our newsletter

& plug into

the world of technology